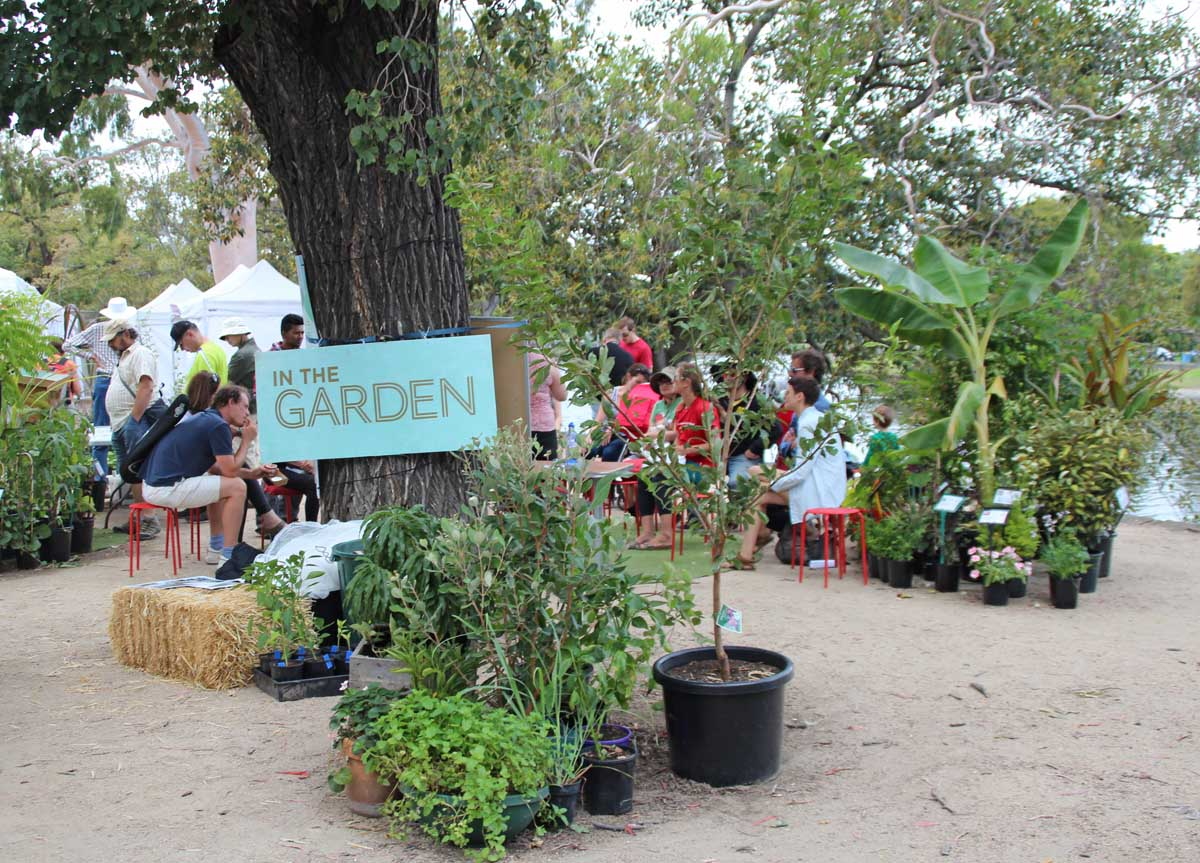 Every year since 1998, the city of Melbourne has played host to the Sustainable Living Festival, where the country's leading businesses and brands in the sustainability sector gather together to promote a more sustainable lifestyle.
From humble beginnings in the Victorian township of Daylesford, the Sustainable Living Festival has been based in Hanging Rock in the Macedon Ranges, Alexandra Gardens in Melbourne and, since 2003, in and around Federation Square. The move to the centre of town is evidence of the growth of sustainable practices in the mainstream, and the numbers attending the festival continue to increase alongside the rate of environmental awareness.
Now attracting around 150,000 visitors per year, this annual affair raises awareness of current environmental challenges and offers solutions for change. Over a three-week period, various events across Victoria are laid on to engage individuals and communities in discussions, workshops and demonstrations in the hope of accelerating a sustainable lifestyle. Artists, filmmakers and actors relay a global message through their works and companies have the opportunity to reach a new or like-minded market.
Those invited to showcase their works or products endure a rigorous screening process designed by The Sustainable Living Foundation to ensure the high standard expected of exhibitors and partners is maintained.
The Big Weekend
This year, the festival ran from 6–28 February, with the Big Weekend touted as the main event from 12–14 February on Birrarung Marr along the banks of the Yarra River.
I attended with my family on the Sunday afternoon, our visit carefully planned around the scheduled events – especially the child-orientated workshops to keep the moaning to a minimum.
I love most festivals. I really don't mind crowds and get a buzz off the collective anticipation of good things to come. Although the crowd was far from that of a mainstream festival, the idea that so many like-minded businesses, organisations and individuals had converged in the same place with the same ethos in mind was honestly exciting.
Walking from stand to stand, it was incredibly inspiring to see so much good going on and real solutions for living a more sustainable life.
Well-known organisations like Friends of the Earth, Sea Shepherd, Earthwatch Institute and Oxfam Australia stood alongside lesser known companies and new businesses like Cohousing Australia, Green Design Solutions, Plastic Bag Free Australia and Vegetarian Victoria, all sharing the same focus.
Underneath a grand old elm tree, visitors to the 'In the Garden' area garnered advice on how to grow edible gardens, plant on rooftops and windowsills, all about raised garden veggie design and how to keep chooks.
At the 'In the Shed' stage, talks from the Australian Conservation Foundation, Wild Melbourne and Perma Pixie taught Melburnians how they can make a difference. The Living Tiny movement shared how to live sustainably in an incredibly small space and EcoCubby revealed how to design and make the ultimate kids' cubby.
Debates on climate change, innovation, defending Antarctica and cooling the planet raged in between serious discussions on death and dying in a sustainable world and surviving a zombie apocalypse. Yes, that's right, zombies featured on the schedule.
Sustainable Food and Drink
On the Village Stage, musicians serenaded the crowd from midday till late and The Great Local Lunch (GLL) showcased some of the best local produce. Hosted by ABC's green fingered Costa Georgiadis and locavore advocate Nick Rose, the Great Local Lunch presented a fresh, seasonal menu using produce from over 200 farmers and backyard growers in one massive feast.
For those who missed out on the GLL, an array of food stalls serving tasty vegetarian, vegan and homemade goodies meant no one went hungry. Vegilicious was a winner with our kids, who are weirdly oblivious to the fact that most kids would run a mile if given a towering plate of steaming veg. Not these two, they fight over who gets the most. Artisan gelato from Billy Van Creamy was the perfect dessert, while I worked for my juice and had to cycle to mix it at Bike 'n' Blend.
All food and drink at the festival was served on real plates – no disposable or recyclable crockery or cutlery was in sight. Instead, the festival enlisted the help of Wash Against Waste (WAW) who provided a trailer and all the kit needed to service a festival, including plates, bowls, cups, cutlery, tea towels, sponges, aprons, buckets, trolleys and wash tubs. It is an impressive and innovative way to cut down on waste.
Eventually, the Great Barrier Beer Bar beckoned. Serving up a selection of craft beers brewed by the Good Beer Co – a social enterprise startup that uses sustainable brewing practices and gives to charitable causes like the Australian Marine Conservation Society – it was only right to sample a few. Preciously guilt-free, the taster pots of bubbling brew went down very well in the heat of the summer sun.
While Hannah Wales played on the Village Stage beside the bar and a few more beers were sampled, I couldn't help but be inspired by the offerings of this year's Sustainable Living Festival. For all the things that are wrong in the world, there is so much right; so many good things happening. It's exciting to see and be part of the change. And maybe next year, as word spreads about sustainable practices the crowd will be bigger than ever before.
Brands to Watch
An ethical label clothing brand, with the tag line 'Wear no Evil'. They are the first non-food brand in Australia to attain Fairtrade certification and use organic and recycled materials in their products. I was especially impressed with their sneakers, which resemble a few other brands of high top trainers. The difference when you buy the Etiko brand is that you're buying ethically made footwear using organic and vegan-friendly materials.
Future Super
This company won me over with their bid to never invest in fossil fuel companies. Not very exciting for some people, I'm sure, but as an ex-pat still searching for a superfund that works for me and is in tune with my ideals, this company is impressive. They don't invest in companies promoting negative or harmful activities like tobacco, gambling, live animal exports, arms or fossil fuels, but do invest in exceptional companies that are trying hard to make a difference in the world.
A revegetation programme in Australia that reduces your carbon footprint by planting trees on your behalf. You get to choose where the trees are planted and can follow their progress over time, or even visit them if you wish.
This not-for-profit organization runs amazing research and conservation expeditions worldwide. Within Australia, they currently run seven expeditions including Project Manta at Ningaloo Reef and Healthy Humpbacks in Moreton Bay.
A community development scheme proposing a new eco village in Nubeena on the Tasman Peninsula. This intentional community has a goal of becoming socially, economically and environmentally sustainable. It build is very much in its infancy and is currently looking for new members.
In a move that would see the end of old growth logging in Victoria, a new proposal for the 355,000-hectare Great Forest National Park could help save the endangered Leadbeater possum, threatened native Mountain Ash and a large part of Melbourne's water catchment in the Central Highlands of Victoria. Only 90 minutes from Melbourne, this new national park proposal has the backing of prominent environmentalists Jane Goodall and David Attenborough.
"The Sustainable Living Festival is a manifestation of a commitment to healing our environment, a demonstration of diverse approaches for reducing the damaging impact we are having on the planet."
Dr Moss Cass, Australia's first environment minister, SLF Patron
Images © Linda McCormick
This article was written for Our Planet Travel & Living >>>