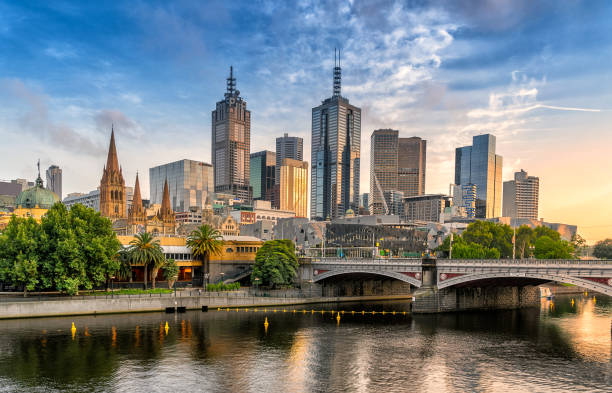 Like so many pockets of Melbourne, the face of West Footscray is rapidly changing from a one-time bustling industrial zone to a multicultural, creative melting pot. This little corner of Melbourne, just 7km from the city centre is the latest hotspot for those seeking that edgy, but hip lifestyle often associated with Victoria's capital. Here, you'll find one of the most varied food scenes in Melbourne, culture in spades, and all near the banks of the beautiful Maribyrnong River; what's not to like?
If you're still wondering why you should visit West Footscray, do read on to find out what there is to do in the area.
1. Savour the Flavours of Footscray
Quickly becoming the latest go-to spot for foodies in the city, West Footscray caters to a huge variety of palates with African, Vietnamese, Indian and Italian restaurants lining the main street, offering a snippet of the mix of cultures in this lively little area.
Golden Horse Restaurant on the corner of Hopkins and Leeds Streets serves some of the best Yum Cha, daily, so there's no need to head into town, and Roti Road, a new Malaysian-Chinese restaurant just opened serves delicious salt and pepper squid in a noodle basket, said to be worth the trip to the west alone.
2. Take a Walk Along the Maribyrnong River
With its origins somewhere on the slopes of Mount Macedon, the Maribyrnong River flows down to Port Philip Bay and has played a major role to those who have lived along its banks for the past 40,000 years. These days a shared walking and jogging trail runs along its length, with playgrounds, barbeque areas, picnic tables and cafes along the banks.
Hop on a pleasure boat at Dynon Road Bridge for a leisurely cruise upstream, or try your hand at fishing from one of the jetties or fishing platforms. Commuters can jump on the bike path, which leads the whole way into the city from various points in Footscray.
3. Row Your Boat
Easily one of the nicest places in Melbourne to go rowing, the Maribyrnong River is home to a number of rowing clubs, including one in Footscray. Here, because it's just a little out of the city there isn't much traffic on the water, and boasts wonderful, wide views of the Melbourne skyline.
Around 80 members are signed up to the rowing club, from all levels ranging from absolute beginner to state champions; everyone is welcome. Beginners' sessions run on Tuesday and Thursday evenings, and Sunday mornings.
4. Become a Bowler
If you prefer a more sedate pace of life, then joining a bowling club may be more your thing. Once seen as a pastime for the golden oldies, young people are moving in on their green space and changing how bowls are viewed. In Melbourne, anyway, bowling clubs are the next big thing among the hipster crowd, so don't miss out!
Yarraville-Footscray Bowling Club is a great place to meet up with friends, have a drink, bring the kids, and enjoy being part of the local community.
5. Test Your Wits on a Local Ghost Tour
Set in the old Henderson's Piggery in Footscray, Lantern Ghost Tours leads guests through the old industrial building, sharing stories of gamblers, murderers and infamous underworld characters who were once linked to the piggery.
Led by paranormal investigators, ghost enthusiasts and psychics, the tours run for 1 ½ to 2 hours. Be prepared for anything as many past guests have reported unexplained noises and the for the lucky few, ghost sightings.
6. Sate Your Creative Side
Sitting on the banks of the Maribrynong River, the popular Footscray Community Arts Centre is actually housed in the old Henderson's piggery, but unless you're a believer of the paranormal, it's perfectly safe to visit.
The centre opened in 1974, and has since received national recognition for the development of multicultural arts in Australia. The range of courses on offer reflects the diversity of the local community, and celebrates it. Here, you can learn the art of African drumming, join the Circus Club or develop your online social media skills. Open seven days a week, the centre has something for everyone.
7. Enjoy the Edwardian Splendour of Footscray Park
Designed in 1911 by renowned architect Rodney Alsop, Footscray Park is the largest and most intact example of an Edwardian public garden in Australia. This 15-hectare park on the banks of the Maribyrnong River offers magnificent views across Melbourne and contains a diverse collection of mature trees, as well as some of Australia's more rare specimens.
Take a few hours to wander through the pathways and under the old pergolas. Bring a blanket and a picnic on a sunny day, lie back and imagine what life was like all those years ago when Footscray Park was the place to be seen, much like it is becoming today.
This article was written for a property developer's website. Part of the copy was used in their marketing material for new apartments in Footscray >>> Barkly Place Advertorial